Children's Protective Services Lawyers | CPS Defense
If you are in Michigan (we only handle cases in the state of Michigan) and reading this page, you already understand that Children's Protective Services (CPS) workers can be intimidating and aggressive. We understand that. That's because we deal with them almost every day. Because it's scary and confusing to deal with CPS, do not delay in contacting our Michigan CPS lawyers for a free initial consultation.
Being investigated and accused of child abuse, child neglect, or molestation can change your life forever. Contact between CPS and parents starts in lots of ways.
Examples of this initial contact include a report being made to Children's Protective Services by a schoolteacher, doctor, counselor, pastor, or an ex-spouse.
The best thing you can do to avoid the many harsh consequences of having CPS in your home is something you already know. LAWYER UP. Hire an experienced and aggressive CPS defense attorney immediately. That means refusing to have any conversation with CPS or the police without your attorney being present.
If you are being contacted by CPS or the police, you should contact the experienced Michigan child abuse and neglect attorneys at The Kronzek Firm PLC. We have a full-service legal defense team and can assist you with all legal matters related to a CPS investigation.
Finding the right attorney is not always easy. Finding a CPS defense attorney with decades of experience fighting CPS is nearly impossible. We often hear complaints from prospective clients that their attorneys seem to be afraid of opposing CPS in court. The job of a parent's lawyer is to protect your parental rights. Only an attorney willing to fight hard for those Constitutionally guaranteed parental rights should handling Michigan child abuse or neglect cases.
Many parents find themselves being represented by attorneys who seem unwilling to stand up for them in court. We get phone calls daily from parents that have unfortunately ended up with CPS in their lives.
Many of them have inexperienced or timid lawyers that are afraid to stand up to CPS. That will not be your experience with us. We are passionate and effective parent advocates for more than 25 years.
Michigan Child Abuse Defense Attorneys
In child abuse and neglect cases, parents often feel that the system is unfair. They feel as though they are treated as if they were guilty until proven innocent. Being accused of harming your own child may be the most difficult experience you ever face. Our job is to level the playing field. We promise to fight hard to get your family back together and the government out of your life. Our success rate for child abuse defense cases are second to none.
We have developed the skill of reuniting families in cases of Munchausen Syndrome by Proxy (MSbP), child injury, infant fracture, failure to protect, and drug abuse. We accept cases in the 68 counties in Michigan's Lower Peninsula. We do not accept cases outside of Michigan. However, attorneys outside of Michigan occasionally hire us to consult with them about very complex child abuse cases.  
Commonly, there is both a police investigation and a CPS investigation going on at the same time. Because our firm also provides criminal defense services, our criminal defense attorneys work together with our CPS team.
We can walk you through both systems at the same time. We can also help you to understand how a child abuse / neglect case and a criminal prosecution affect each other. 
No matter the specific child abuse charges you're facing, the Michigan Children's Protective Services (CPS) defense attorneys at The Kronzek Firm can help you. We have over 80 years of combined legal experience and a track record of proven success that shows how effective our representation can be. Our attorneys are not afraid to protect your rights, even in the face of the most heinous and shocking accusations. Among the cases we've defended are:
Child Abuse

Child Neglect

Poor defenses done by Court-Appointed Attorneys
Munchausen Syndrome

Sexual Abuse Allegations

Shaken Baby Syndrome
Defense against Mandatory Reporting

Termination of Parental Rights
Contact a Michigan Child Protective Services Defense Attorney
Know Your Rights – Speak with an Experienced CPS Lawyer
1 (866) 766-5245 | Contact Us
Michigan CPS Defense Team
In Michigan, CPS is the division of the Department of Health and Human Services (DHHS) that investigates allegations of child abuse and neglect. Unfortunately, much of what CPS workers do is a matter of their own internal policy. CPS policy is different from state law. The fact that CPS policy is binding on a CPS investigator does not make it binding on a parent.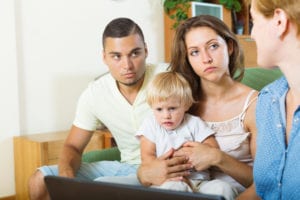 In fact, our defense team has its own policies that we adhere to. Our most important policy is to ethically and aggressively work to keep families together.
Our other important policies include demanding that our clients be treated fairly and courteously by CPS. We also have a policy against being judgmental of our clients. We don't judge you. We protect you. 
Parents have well-recognized constitutional rights regarding the raising of their children without unreasonable governmental interference. We can help you evaluate your legal rights and responsibilities. Furthermore, we can help you explore ways to keep your children in your home and the government out of your home.
Our highly experienced CPS defense team is ready to assist people in Michigan in dealing with CPS and defending against criminal child abuse allegations, including, but not limited to:
Trusted Michigan Child Abuse Attorneys
Many people are not aware that there are attorneys that focus on defending Michigan families from allegations by CPS. The Kronzek Firm PLC has been defending parents for more than two decades. We have never been court-appointed CPS defense attorneys. We always fight for parents with expertise and professionalism.
While there are some good court-appointed attorneys around the state, it is always imperative that you have the best possible attorney if you are in court and facing allegations of neglect or abuse.
We have always believed that it's a bad idea not to select your own attorney to represent you during a CPS case. 
Why? Because every case comes with a potential loss of parental rights. Even in a case that does not initially seek termination, parents who do not do well in the system nonetheless risk losing their kids. We are extremely proud of our role in keeping many, many families together since the last century.
Learn more about your rights. Call The Kronzek Firm for help with CPS 1 (866) 766-5245.
Our CPS defense lawyers proudly fight for families all through the Lower Peninsula of Michigan not limited to: 
Macomb County, Lapeer County, Livingston County (including Brighton and Howell), Eaton County (including Charlotte), Allegan County, Ingham County (including Lansing and Okemos), Calhoun County (including Battle Creek), Kent County (including Grand Rapids), Ottawa County, Gratiot County, Oakland County, Washtenaw County (including Ann Arbor), Branch County, Midland County, Isabella County (including Mt. Pleasant), Lake County, Arenac County, Shiawassee County, Roscommon County, Iosco County, Wexford County, Allegan County, and Hillsdale County. 
If you are in need of a Child Protective Services defense attorney in Michigan, call the Michigan CPS Defense Specialists at The Kronzek Firm today at 1 (866) 766-5245, or email us! We are available 24 hours a day to help with emergencies.